Better Late than Never
Am I right? Oh man – I hope so. I would like this blogging thing to work out. I remain hopeful that it will. And so, I push on again.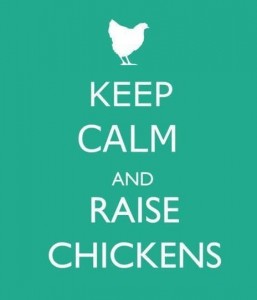 In the many months that have come and gone since I last posted here, I've been kinda busy. Among other things happening around Nerdhaven West, I completed a course in food preservation – the Master Food Preserver Program offered by the UC Cooperative Extension. I am now a Master Food Preserver (can't you just hear the trumpets?)
Food preservation – like blogging, apparently – requires an optimistic spirit. Food preservers regularly face the existential question: "Will this be good to eat in a year?" (i.e., toxic? tasty?) In a preservation project, one commits the time, energy and resources in the present and hopes for the payoff in the future. Certain predictors maybe increase the likelihood that it will be worth it – but one can never truly be certain . . . One predictor of success is whether the food was preserved following a tried and true recipe. Hope is nice, but it can't prevent a mold from forming or make a product taste good.
But with this project, I'm not really following the rules. So hope is all I have to go on. As a cook, this style makes me nervous. It violates my Virgo-lawyer sense of order. Rules are good. I love rules. This particular project, what I'm writing about today, it's more my sister's style – she has been known to go off road in her cooking. I mean – hey, it's just food!
And in this case it's not even food. It's booze: nocino. A liqueur made from green walnuts and aromatics soaked in vodka. I learned about nocino in my Master Food Preserver class, where it was spoken of in somewhat hushed tones . . . the flavor is elusive . . . think cinnamon toast and coffee and maybe some Coca-Cola in there . . . but soooo good. The idea stayed with me because it is such a delicious way to use green walnuts, a fairly common Southern California backyard nuisance – um, I mean fruit.
While the taste of nocino lingered in my mind, the recipe did not. So when a friend called me up on August 4 and said, "hey I have walnuts on my tree and they are starting to fall, do you want any?" I took a quick look at this David Lebovitz blog post (to see how many nuts I needed to harvest) and ran right over with my picker and my trusty assistant:
Then I promptly came home and chopped those babies up. I had a feeling the walnuts were a bit past their prime, because when I chopped them, they didn't look exactly like the David Lebovitz photo I saw before I ran out to go pick. His looked all young and fresh and perky and lovely. Mine looked like this: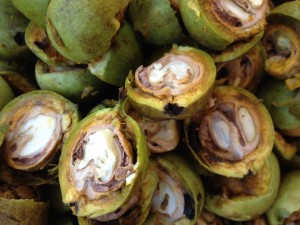 Those are some old, hard nuts, am I right? Turns out, nocino is made from walnuts picked on June 24th – the feast day of St. John the Baptist. That is when the nuts are soft enough to cut with a knife. But I was not hampered by the knowledge of this rule at the time. I picked my walnuts on August 5 and chopped them all up and put them in the vodka on August 6. Later I learned, from this helpful LA Weekly blog article, that while the green walnuts are traditionally harvested on June 24, really they are still soft enough to be picked for nocino into July. Later than that, the walnuts have begun to form their hard shells, making them difficult to cut open. And then, "By August, it's a done deal and you have to wait for next year."
Wait, what? Done deal? I made it already! What do you mean, done deal? Like they cannot be cut? I cut mine. Okay maybe some were more like smashed; and some I could only cut into halves, not quarters as the recipe instructed. But still, the interiors are plenty exposed to the alcohol. Or does the author mean done deal as in, don't even try it because the old-ass walnuts are too mature to be tasty and what you end up with after months of maceration and resting is a black and boozy substance too bitter to imbibe. Who knows? But I hoped. And then I put my container of walnuts and vodka in a cool dark place and moved on.
Until today, when – ever hopeful – I went to put another food preservation project (fermentation) into my cool dark place and ran into my old friend the nocino container. Doh. I realized I was supposed to strain it like two weeks ago. So I strained it out. Here's a photo of the solids, they were beautifully shiny and black and looked very Halloweeny: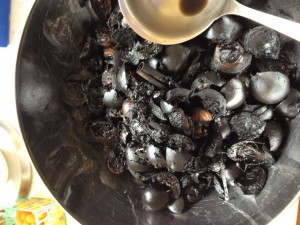 Of course I also tasted it. But of course! And it seemed . . . fine. I'm refraining from judgment. I compared it with the sample I received from the MFP course, and mine was stronger, harsher. But hey, the MFP sample has been sitting around for a long time, maybe a year or more. It's a wise old brew. My nocino is in its infancy. A wee babe. The Baby Huey of liqueurs – and made with old-ass nuts past their prime.
Both of the recipes I consulted said that the nocino should sit for a couple months to mellow – so mine is on track for the Holidays. Maybe this might all work out. Maybe I'll have a homemade gift to give this year. Maybe I'll be ringing in the New Year with some nocino. Here's hoping!
My August 2012 Nocino
Adapted from the recipes of David Lebovitz and Felicia Freisema
Some notes: (1) don't wear clothes you care about when you are making this recipe. These walnuts are crazy-staining. (2) Wear gloves – ones that nothing can soak through – and still be prepared to have your fingers stained afterwards. I wore gloves and my fingers were still stained a week later. (3) Here is a tip from David Lebovitz which saved my life: use a cleaver, tap it into the skin of the green walnut, then lift the cleaver and whack it down on the cutting board to split it (I used the same technique with a butcher knife, and it worked).
60 walnuts, washed, dried and chopped/smashed into quarters or halves
5 cups sugar
2 liters vodka
4 sticks cinnamon
20 whole cloves
zest of two lemons, peeled off in long pieces with a vegetable peeler one vanilla bean, sliced lengthwise
1. Place the walnuts into a large container with a tight-fitting lid and pour the vodka over and be very psyched that you actually did this thing. Now go clean up the mess from the chopping/smashing.
2. Wait two days and then realize you forgot to add the other tasty ingredients. Add all the ingredients except the sugar. Stir well.
3. Wait two more days and then realize you forgot the sugar. Geez. Add the sugar and stir well. Put nocino in a cool, dark place.
4. Wait two months. Find the nocino. Strain it through a cheesecloth to remove the sediment (especially if you used the smashing technique). Then decant into clean and sterilized bottles. I understand that nocino mellows as it sits, so don't drink this right away if you think it's too strong or bitter. Decant it and then let it rest a couple months before using it.
5. Put June 24 into your calendar for harvesting green walnuts next year.