Here at Nerdhaven Farms West we grow plenty of edibles – but we have more hungry mouths than we can feed from of our harvests of artichokes, apples, apricots, blackberries, tomatoes, figs, persimmons, kale, lovage, sorrel, dandelion greens and, last but not least, eggs. So we supplement our harvest with a community supported agriculture subscription, also known as a CSA box.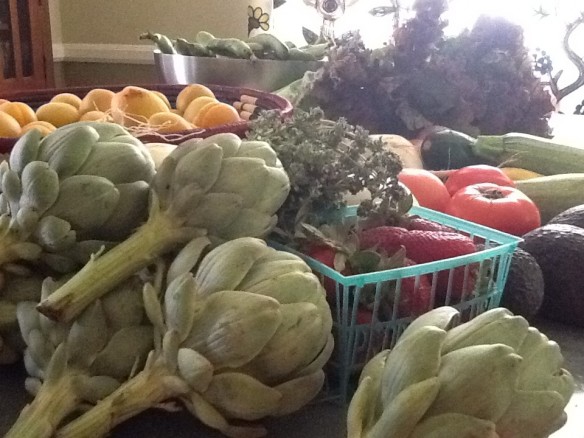 Our CSA, Abundant Harvest Organics actually calls itself a farm-share delivery service. My understanding is that with a CSA, one buys a share in whatever a specific farm is growing. AHO, on the other hand, organizes and delivers the harvest from an alliance of small family farmers in California's Central Valley. So AHO delivers us bounty from not just one farm, but many; providing our hungry peeps here at Nerdhaven West with a wide variety of organic produce (as well as other tasty stuff like herbs, eggs, meat and dairy by special order). (But we call AHO a CSA anyway. FSDS sounds like a florist.) The photo above is the contents of this week's box. Yum, right? Every Saturday morning between 10 and 11, we drive over to the local Lutheran church parking lot and pick up what we call "the veggie box."
And then every Saturday morning at 11:01 a.m. I start figuring out what to do with the contents of that week's veggie box. Eek. It's a little overwhelming to get all this produce at once. I'm glad I got that Master Food Preserver Certification. I'm also glad I have a lot (65 – is that a lot?) of good cookbooks. I have to say, in my defense, that while I may have more than my share of cookbooks, I'm not a cookbook hoarder. I regularly purge my collection and what I can part with I pass along. I keep what my kitchen shelves can hold and what I need for research. Yeah, that's what it is, research . . .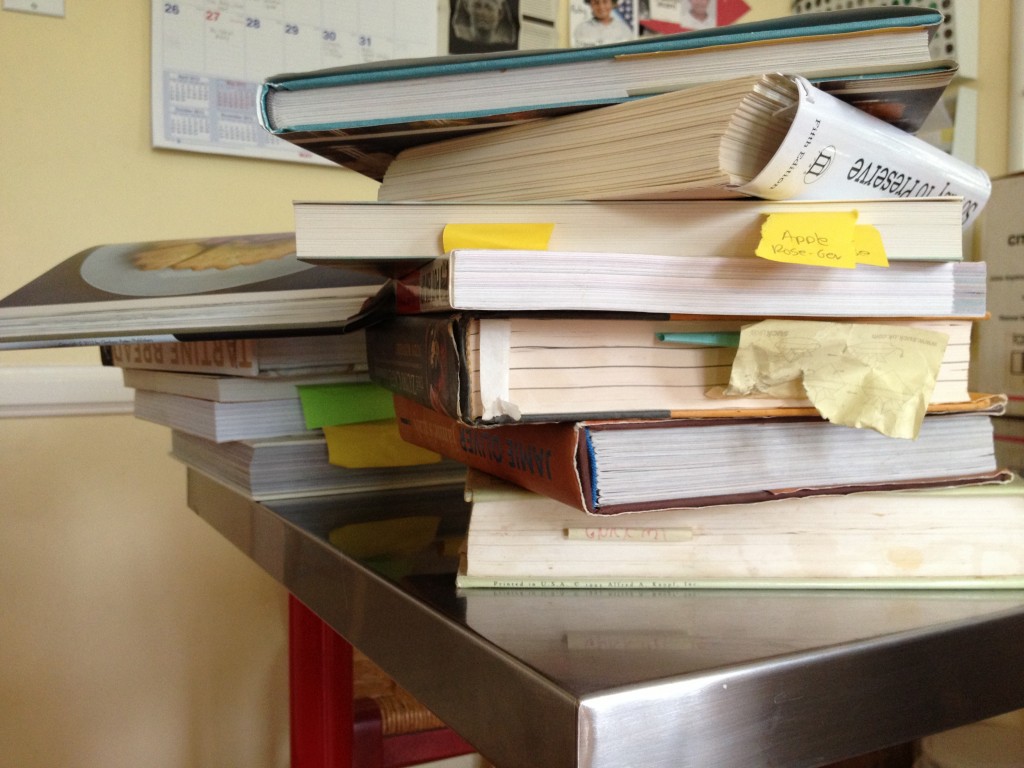 And in addition to the question of how to use this bounty most efficiently, on this particular Saturday I had to address the burning issue of how best to satisfy my craving for a baked good. Oh man, I was needing cake sumpthin fierce. And then I also especially needed to address those apriums. Hello, apriums: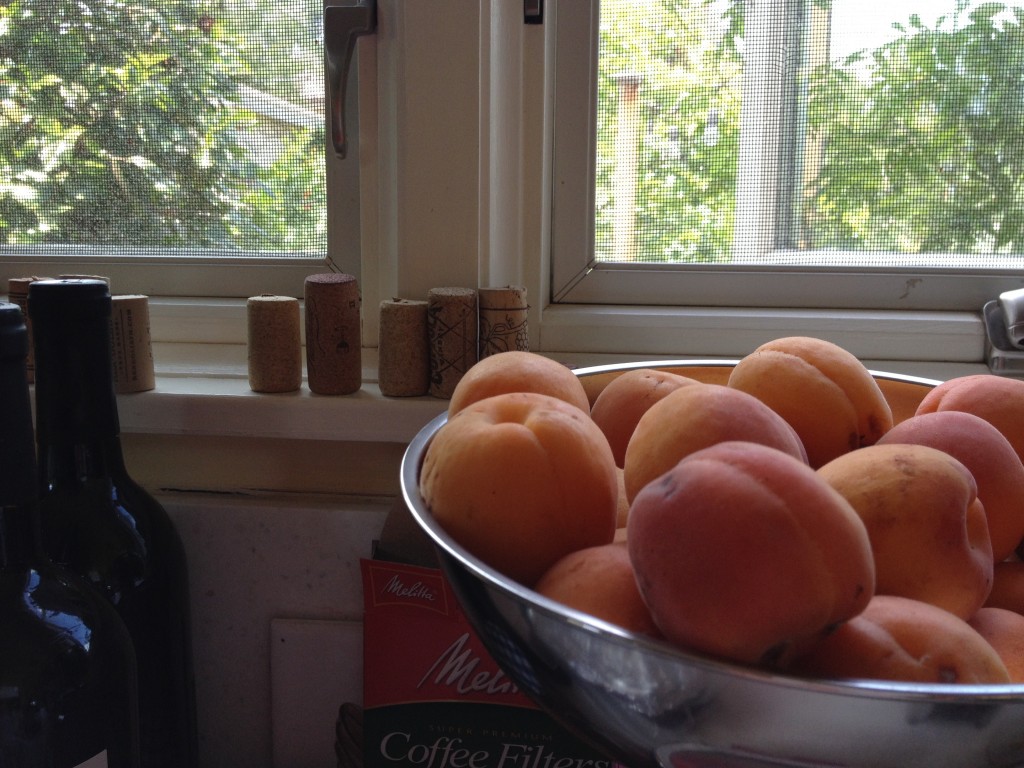 I think I needed to address those apriums quickly before they snuck out of the window on me. Doesn't it look like they are slyly trying to escape? No worries, I caught them. Have you ever had an aprium? It's a cross between an apricot and a plum, but with more apricot (a pluot has more plum). Apriums are delicioso – super good flavor – and they are freestone, so they are easy to work with as well. They can be used in any recipe calling for apricots.
Okay and so back to my baked-good craving. I was thinking I could use the fruit whole, or mostly whole, in something like a pie or cobbler (really, I was only kidding myself thinking pie. I rarely make pie because I have pie crust phobia). I really wanted cake. Then I found the perfect thing – make the apriums into a jam and then use the jam in a cake. I love it when a plan comes together . . .
But jam making and then cake baking? I had an oy vey moment. Then I hit the cook books again for more research: apricot amaretto jam, apricot raspberry, apricot this and that. Then I found this wonderful quote from Alice Waters in her book, The Art of Simple Food: "Jam making doesn't always have to be a big production." Just in time – some much needed perspective. Thanks, Alice. I knew I could count on you.
Apriums, sugar, lemon, heat. Badda-bing, badda-boom, you've got jam. I didn't bother water-bath processing the jam because it wasn't a huge batch and I was going to use half of it in my cake anyway. And the rest would keep in a jar the fridge. Not that it would sit around long. Did I mention apriums were delicioso?
And then I made the cake – an easy recipe (below) – whipped it up in minutes. I was able to start right away because I wisely put the butter on the counter to come to room temperature before I started researching. When one is experiencing a dramatic baked-good craving, it's a good idea to get the butter out early.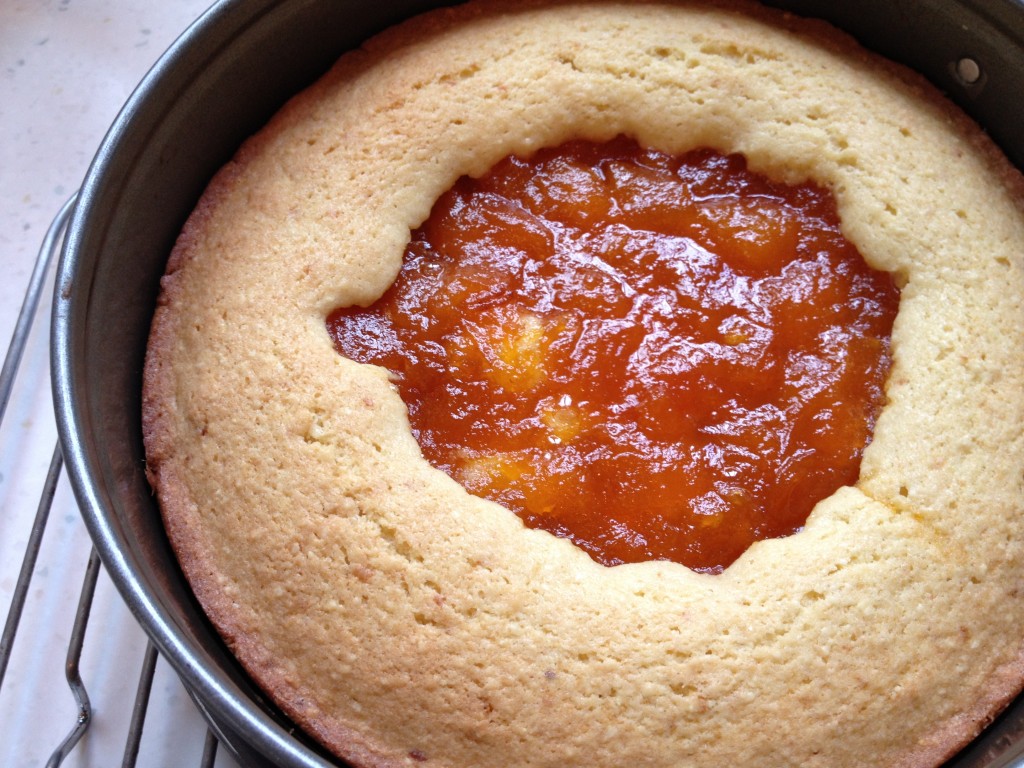 Aprium Crostada
Adapted from Nigelissima, Easy Italian-Inspired Recipes, by Nigella Lawson
7 Tablespoons unsalted butter, softened, plus more for buttering the pan
3/4 cup sugar
2 eggs
Zest of 1 (unwaxed) lemon, plus (optional) juice
1 cup all-purpose flour
1/2 cup almond meal
Pinch salt
1 teaspoon baking powder
1 1/2 cups aprium jam – recipe below (or whatever jam you want to use)
Special equipment: 9″ springform pan
Preheat the oven to 350. Butter the springform pan, or use a baking spray.
Beat together the butter and sugar until the mixture is pale and fluffy. Add the eggs, one at a time, continuing to beat the mixture as you go. Then beat in the lemon zest.
Mix together the remaining ingredients and then fold into the batter.
Scrape the batter into the prepared pan. It will be thick. Spread it around, to make an even layer in the pan. Then, using the back of a spoon, make a shallow circular indentation in the middle of the batter – this is where the jam will go – leaving a thicker raised border about 1 1/4 inches wide all around.
Measure the jam out into a larger measuring cup and whisk it around a bit to make it looser. Add lemon juice if you want to cut the sweetness of your jam. Then spread the jam into the indentation, leaving the raised border clear.
Bake for 25 minutes, until the cake around the edges is risen, golden brown and firm to the touch. Double-check: if a toothpick inserted into the border comes out clean, it's done.
Let the pan cool on a rack for about 15 minutes. Then run a thin knife around the edge of the pan, to loosen the edge of the cake from the pan. Gently remove the form from around the cake. Slice the cake on the base of the pan and serve warm with whipped or ice cream, or cold with a cup of tea for breakfast. Trust me, I tried it both ways.
Aprium Jam
Adapted from The Art of Simple Food by Alice Waters
2 1/2 pounds ripe apriums, pitted and cut into 1/2-inch pieces
3 3/4 cups sugar
juice of one lemon (optional)
Put a small plate in the freezer. You will use this to test the jellness of your jam later.
Put the apricots into a medium-sized heavy pot and stir in the sugar. Bring the apricots and sugar to a boil, lower the heat to medium and boil steadily, stirring often, for 20-25 minutes. Skim off the foam that rises to the top – but you don't have to go crazy about it.
When the mixture thickens and it starts to look like a loose jam, drop a bit on your frozen plate and put the plate back in the freezer for one minute. Then take your finger and press into the cooled jam on the plate. If the mixture gets wrinkly, it's done. You might have to drop a few drops on the frozen plate, so don't forget to put it back in the freezer.
When the jam is done, squeeze some lemon on it if you like. Allow to cool slightly before using it in Aprium Crostada. Leftovers can go in a jar in the fridge.
And then look out for next week's veggie box – you never know what you'll find inside.