I could use a bit of Diane's chicken soup, right about now. Facing our last three of 13 days  in Siem Reap and I'm a bit frustrated. Between miles and miles of temples, great restaurants, a river, a lake, and more temples, I feel like I've just had time to sample a small bit of it all. For the past week I've had a stomach bug and for the past three days it has gotten seriously annoying. I'll have a visit to the doctor today to get it sorted out. In the meantime, I'm, well, tethered to the hotel room a bit. On the bright side, I watched Nadal win the quarterfinals at the Australian Open.
Enough whining, give this girl some luck and peace.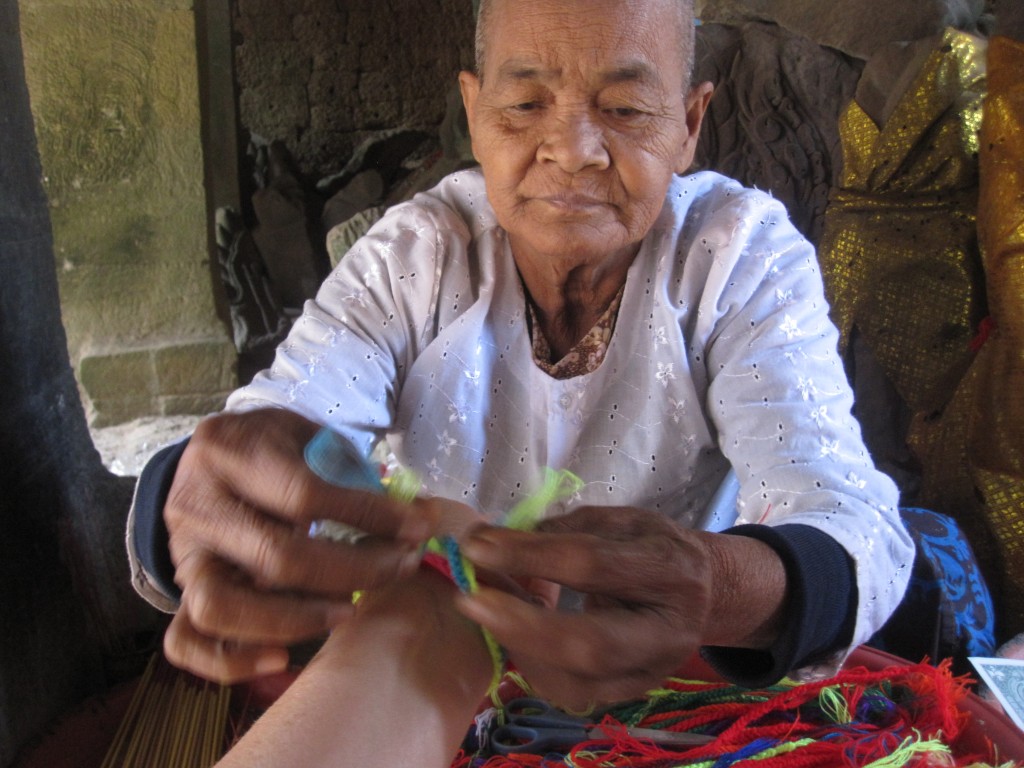 Thanks!
I've easily managed to have a wonderful time here. For a city of around 200,000, options abound. Once I became accustomed to my small daughter perched three feet above the roadway on a flimsy seat in an open-walled vehicle barreling into oncoming traffic, or nearly being forced of the road by a passing tour bus, I was able to connect with the area. Resistance is futile. (We weren't sure which side of the road people drive on here until a day after our arrival. Answer: right side).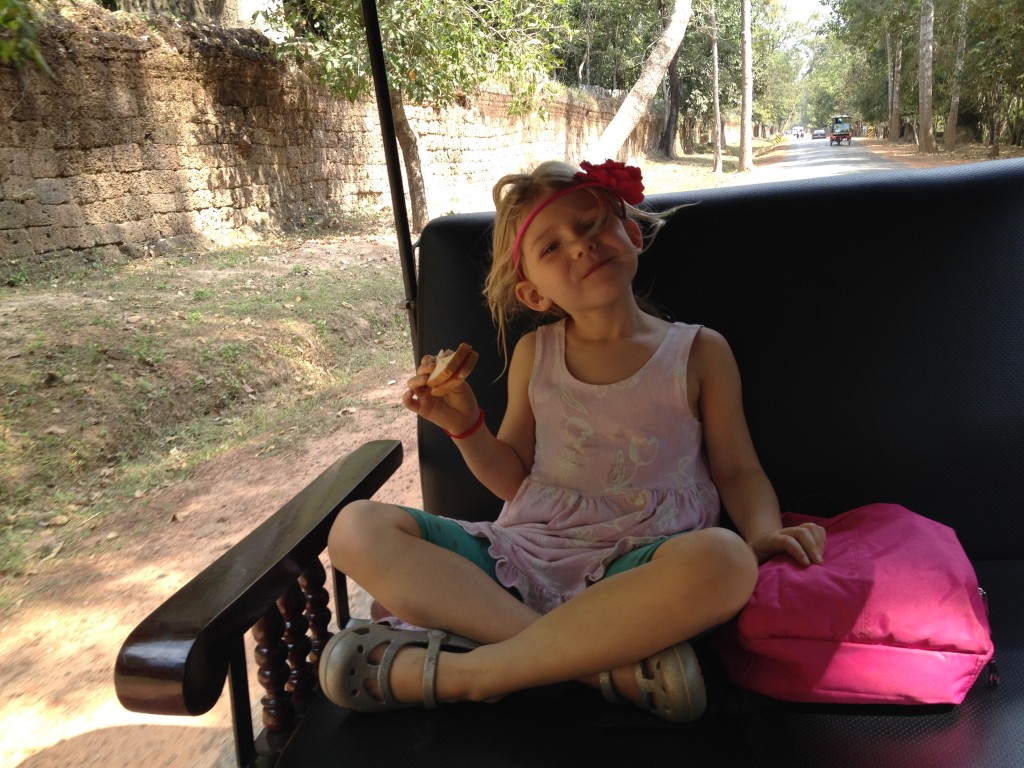 For our first week, Clara and I did a lot of chilling by the pool and chatting with a bunch of anthropologists while John was in a regional conference on the subject. One day we went en masse to UNESCO World Heritage site Angkor Wat. Many of the academics and professional archeologists in our group built their careers on the study of Angkor. In the past few days, post conference, the three of us we were able to go back — just us and thousands of other tourists.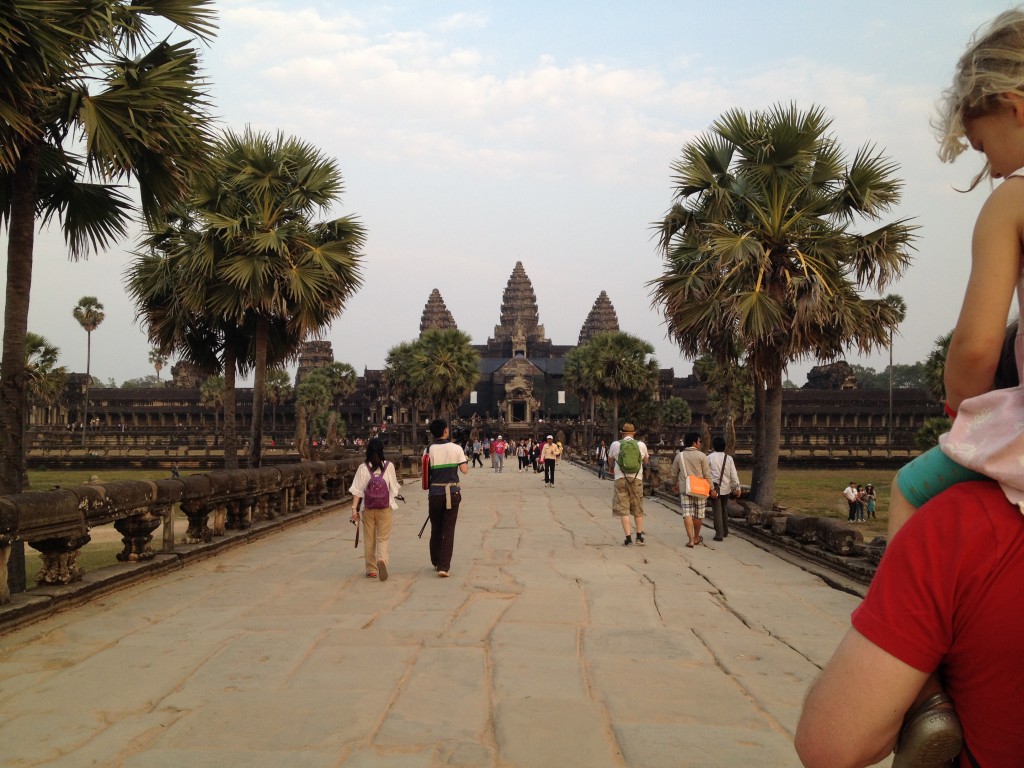 Both visits were astonishing. One thing I didn't really grasp until I toured the site was its enormity – sprawling as far as Manhattan, including its five boroughs. Imagine trying to visit everything in NYC in one day? Or three. Angkor Wat is  one of hundreds of ruined temples in the complex. As equally staggering as the temple constructions are the massive reservoirs to collect and channel water.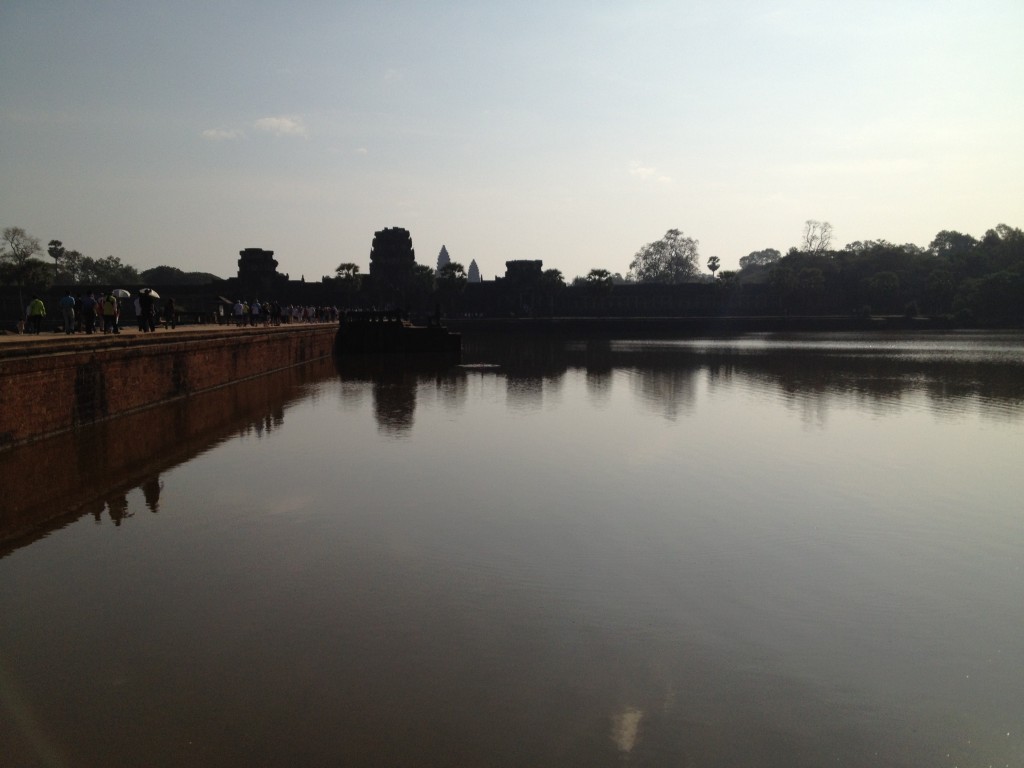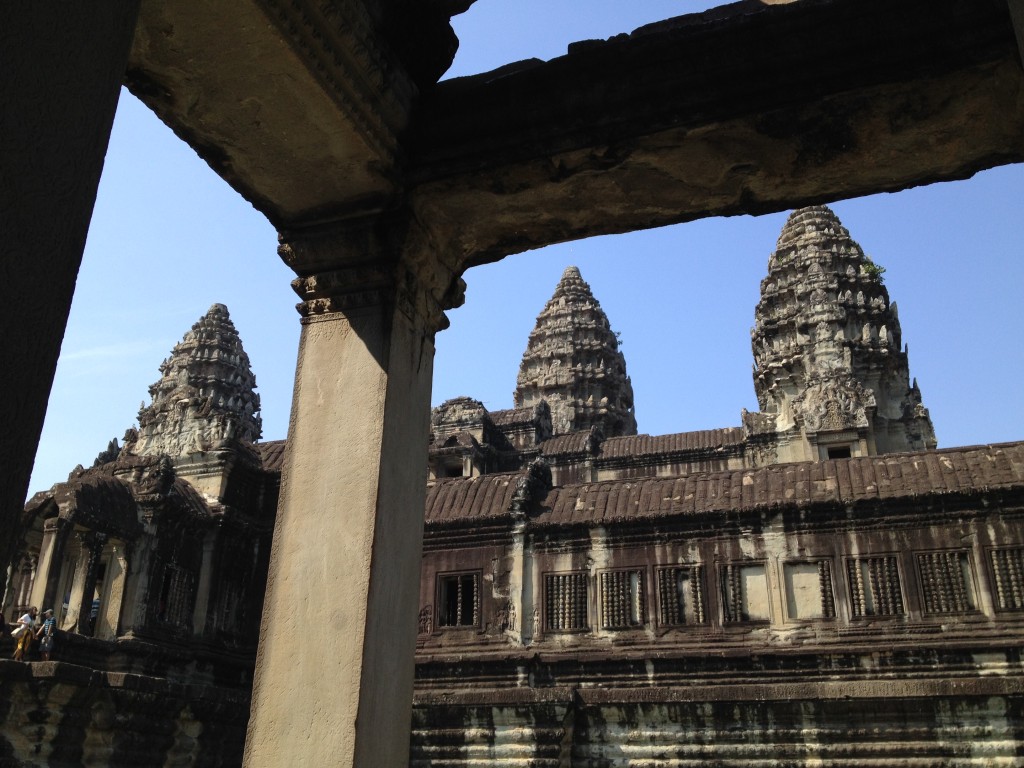 I couldn't help thinking more than once that I'd wished I'd visited Siem Reap and Angkor five or ten years ago. The town's population has more than quadrupled in that span of time. Growth management is sketchy. Resources are stretched. Traffic is, as I've mentioned, crazy. More than 2 million people visit Angkor each year, and the Cambodian government would like to make it 10 million. There were times as we visited some of the ruins, that I felt I was in some big backdrop designed for people to shoot photos. I caught myself doing it, too: Not really looking, just shooting. Those iconic roots draped over crumbling temple walls? There is now a wooden platform people can stand on to pose in front of them. We had dinner with the man who took those photos, and he says can't visit that temple, Ta Prohm, any more. The temple itself, which by plan was to be left to the jungle, is now being restored through a joint Indian/Cambodian project. He says the magic is gone.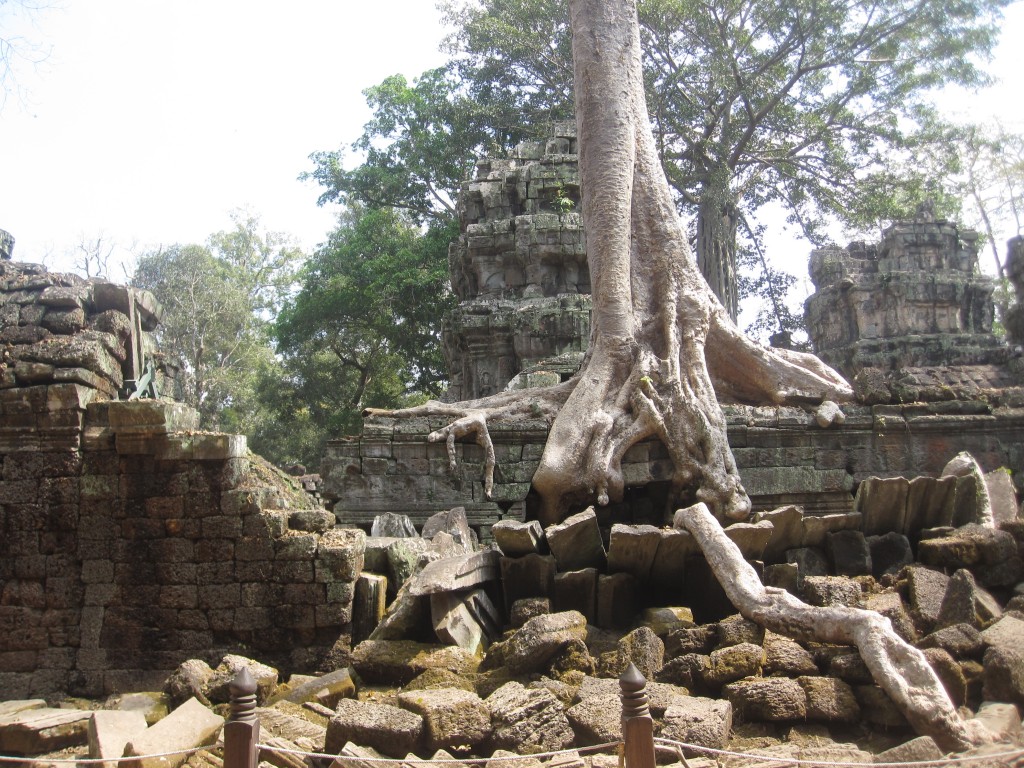 And perhaps it has for someone who saw it 10 years ago. But not for us. Well, maybe from Ta Prohm. Construction sites rarely feel magical. But the mystery still floated in mists  hovering over massive moats. I felt wonder and peace in smaller, lesser-known temples, especially in the evening, when the setting sun's glow turned from golden to peach and the many tour buses were gone. For me, those special moments far outweighed the others and they will be the ones I remember.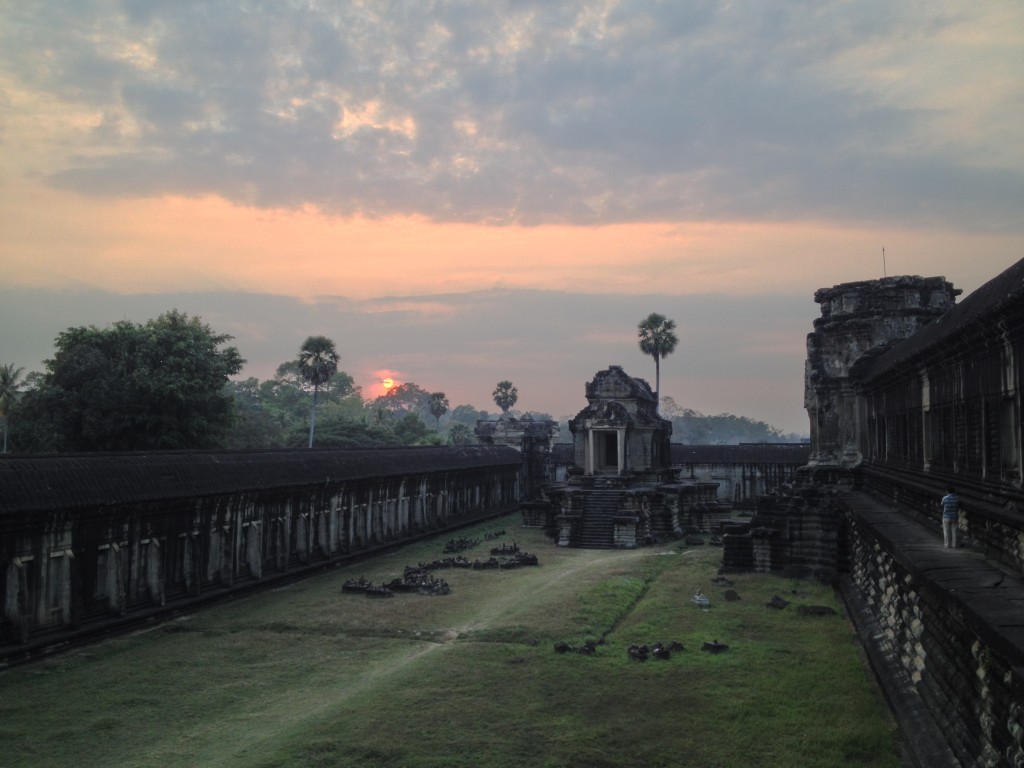 Modern Cambodia exists, too. I will try to write about it soon. As well as our trip to Tonle Sap, a mountain river and so many other experiences. I can't keep up!