Recently, my brother and his wife visited Florida, and not for the first time. They have been to Paynes Prairie State Park. They have paddled down the Ichetucknee Springs river run, visited the town of St. Augustine, its beaches and old Spanish Forts, and even Conga-lined through some seafood joints in Cedar Key. Definitely the responsibility fell on my shoulders to find something new and exciting to do with them in my fair state.
For long 20 years friends told me about a great place south of Gainesville where you can see wild manatees AND cook pancakes on a skillet built into your table at a Spanish sugar mill turned restaurant. Why hadn't I visited sooner? Deciding it was perfect for the kiddo, the siblings, and the parents alike, we loaded into my parents' mini-van and took the scenic route to DeLeon Springs State Park.
Sunny but chilly weather greeted us when our nearly two-hour drive ended at our destination. We didn't suit up, but many other visitors did brave the low-60s temps swim. After all, spring water emerges from the ground at a balmy 72 degrees.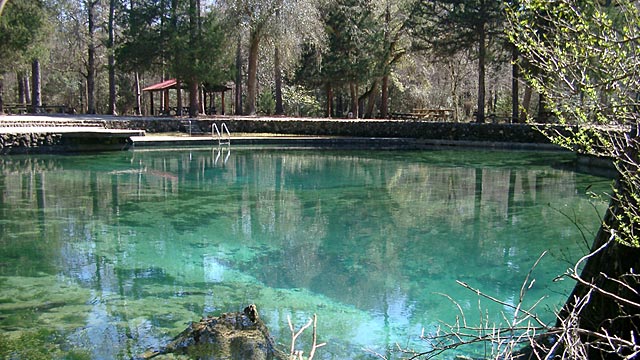 This is not my photo. I borrowed it from Astor Bridge Marina. I had one of those days when I sort of forgot I had a camera. I was living in the happy moments spent with visiting family. Because it was Sunday, we had a long wait for the pancake house. So we cruised the spring run in a pontoon boat for an hour. Among other creatures, we spotted alligators, bald eagles, turtles, herons and manatee tracks. (You didn't know manatees make tracks? Neither did I, never having given it much thought. Under the right conditions, when the water is fairly shallow and the river bottom fairly sandy, manatees leave a clear trail of kicked up silt that hovers in the river for a time.)
But I didn't think to break out the camera and take any pictures of the tracks, either. Here is one river boating sight I did get snap-happy about: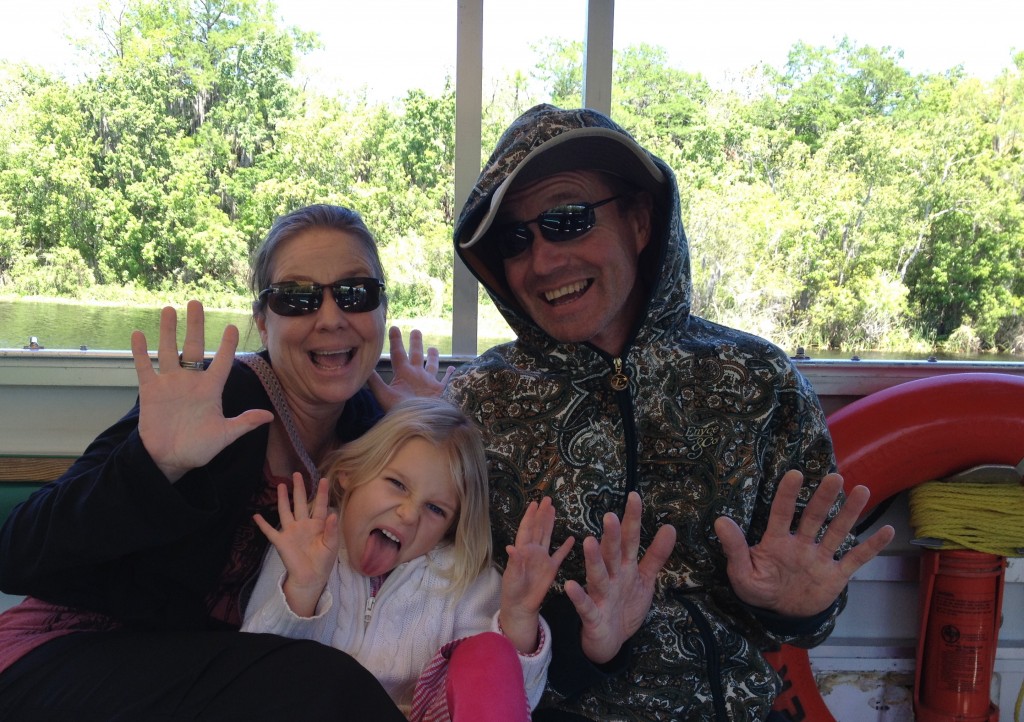 The peaceful trip went a long way to restoring my faith in the strength of nature. DeLeon Springs is by no means in its natural state, but it supports wildlife and a threatened wetlands ecosystem. Named after Ponce De Leon, the Spanish explorer from the 1500s who searched Florida for the fountain of youth, the springs became part of the state park system in the 1980s. The region's fascinating history began long before. For at least 6,000 years before the Spanish arrived, the Mayaca Indians populated the area. The conquistadors started messing with the area about 500 years ago and manipulation has continued pretty much uninterrupted since. Today the springhead has been hemmed in with a stone and cement retaining wall to create constantly refreshed swimming pool of crystal clear water. But the overflow tumbles over rocks into the spring run, which still provides a home for wildlife, and flows into the 18,000-acre Lake Woodruff Wildlife Refuge. Wetlands stretch for miles on either side of the river.
The Old Spanish Mill has new life, too, as a pancake house. We made it back from our boat ride just in time to get the best seat at a table overlooking the river. Definitely photo worthy! However, we were too busy pouring batter onto our skillet for me to get a good shot. So check out some of these photos and pretend those diners are us. Maybe on my next visit I'll have more time for photography, for I will be back.