When we travel, we often choose a restaurant based on whether it has french onion soup on the menu. And if the soup is good, we may have an extra round of it. That's right – two bowls of soup. We live large, people.
We have had some excellent french onion soups (some photos of which are included here for your enjoyment). But throughout all our sampling, my family insists that my french onion soup is the best. Sweet, right? They sure know how to get me to make more soup. Now that the weather has turned chilly (I am wearing a sweatshirt and a scarf today), my thoughts turn to soup. And so I am going to pass along my recipe for the very best french onion soup. It has been vigorously tested by me and mine.
Step one: get out your crock-pot. If you don't have one, you really should get one. I know. Snap to it. Get moving. Jump on it. Whatever. They are cheap, energy efficient and above all, sooo helpful. Stop whining and get one.
While we are on the subject of whining, there was a time when, even though I had a crock pot, I did not love it. There's only so much stew you can have, right? And then, many recipes, in the interest of better flavor and texture, call for browning the meat ahead of time in another pot and then adding it to the crock pot. I hate those recipes. If I am already browning the meat, I am just going to go ahead and braise it in that pot in the oven or on the stove – and only have one dish to wash, thank you very much. Taking the time to brown the meat (all four sides!) and getting an extra pot dirty on top of it cancelled out the benefit of crock pot cooking for me. I'm not saying this is rational, I'm just speaking my truth.
Through french onion soup, I began to see the crock pot not just as a way of making stews with boneless, skinless chicken thighs (which don't need advance browning); but as a hands-free way of making staple ingredients that can be used in many different ways. Nothing is better than cooking while you sleep, which can totally happen when your food cooks for 12 hours. And what's more is that I love the staple ingredients that can be made with a crock pot, like caramelized onions, chicken stock, oatmeal, apple butter, herb-infused oils. All of these are helpful ingredients that can be used in tons of recipes. In a nutshell, caramelized onions in the crock pot changed my life.
The two main reasons why onions cooked in the crock pot are so amazing are: (1) you will never burn the onions – never; and (2) you get this amazing onion broth, which is an ingredient in itself, along with the brown onions. I use both the onion broth and the onions in my french onion soup. There's also a secret third reason: a by-product of the recipe is this amazing onion-infused butter, which is very tasty to use to saute zucchini or toss with pasta.
I can't take credit for inventing this method of cooking onions. I got the idea from Slow Cooker Cooking, by Lora Brody. I love this book. I don't cook any of her recipes that call for browning ingredients before putting them in the crock pot, mind you, but I love this book, for its very useful and easy recipes, especially the pantry section and the soup sections. And most especially her recipe for caramelized onions.
But time after time, as I was happily crock-potting onions, it nagged at me that the recipe was called "Caramelized Onions." Experience taught me that caramelization involved high heat, sugar, and a dry cooking method. But none of those conditions are involved in crock pot onions. And really, these onions are way too juicy and thick to be caramelized, except they do change to a deep brown color and have a yummy rich, sweet flavor.  What gives?
Well, I'm going to nerd-out for a moment here. Contrary to what the awesome Lora Brody calls them, it turns out my suspicions were valid (listen to your gut, people!) these are not caramelized onions. They are rather "Maillardized" onions. Maillardized comes from the term "Maillard reactions," which according to Harold McGee in his magnificent book, On Food and Cooking, were named for the scientist who discovered them, Louis Camille Maillard.
Both caramelization and Maillard reactions (or, as I say, "Maillardization"), writes Mr. McGee, are two different "browning reactions" (complex chemical reactions) that happen when foods are subjected to sufficient heat. These reactions produce the yummy flavors we associate with cooked food. Caramelization is the chemical decomposition of sugar at high heat (330F/165C) into different types of molecules, which have delicious flavors and fragrances and add much yumminess to candies and other sweets. On the other hand, the Maillard chemical reactions happen when one applies heat to foods that are not primarily sugar (like onions and butter in the crock pot onions recipe). It is a reaction between a carbohydrate and an amino acid. Just like with caramelization, the reaction causes a brown color and rich, intense flavor (think bread crusts, chocolate, roasted coffee beans, dark beers, condensed milk). But, Maillardization happens at much lower temperatures (about 220F/115C) and can happen with moist cooking methods. And, best of all, Maillard flavors are even more complex than caramelized flavors, making crock pot onions all the more delicious to use in french onion soup. So, thanks Mr. Maillard! Let's go make soup.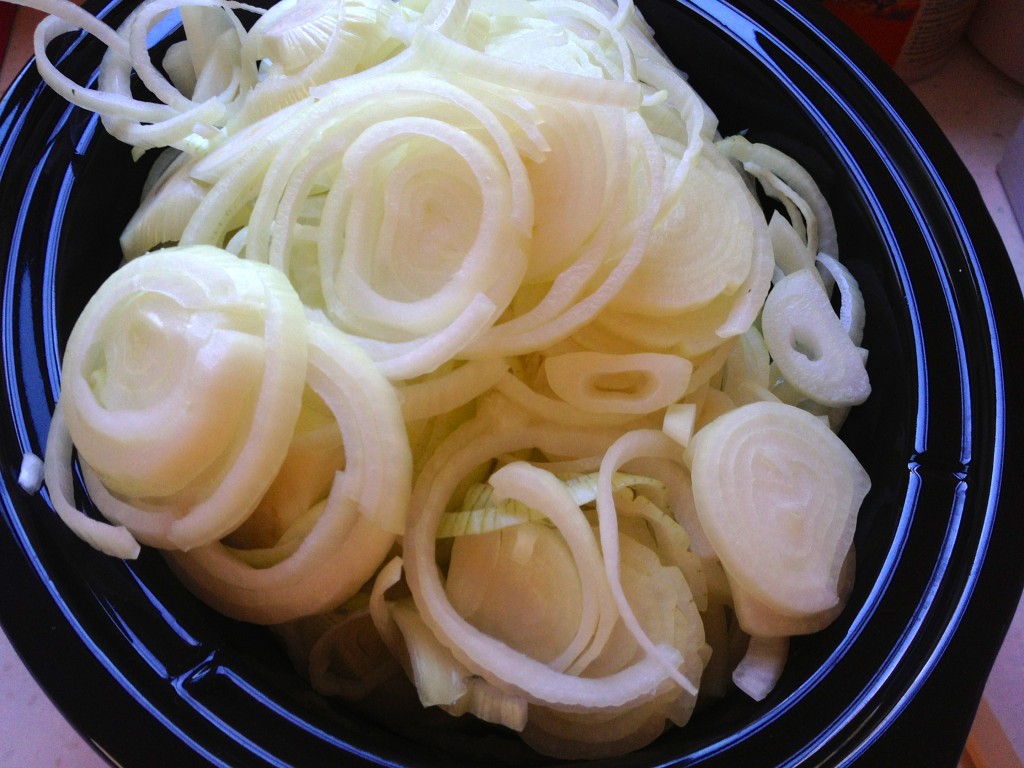 First is the recipe for the crock-pot onions, which have many uses besides french onion soup. Then the grand finale, the french onion soup recipe.
Maillardized Onions
Adapted from Slow Cooker Cooking, by Lora Brody
3 pounds yellow onions, peeled and cut into 1/4 inch-thick slices
(if you have a  bigger slow cooker, go ahead and double the onions.)
1 stick unsalted butter (if you're doubling onions, do not double butter)
1. Put the onions and butter in the insert of the slow cooker. Cover and cook on low for 12-14 hours, until the onions are deep brown, mahogany color and very soft. Your times may be different because slow cookers are different, but don't worry because you cannot  overcook these onions.
2. Drain the onions, pouring the juices into a bowl or large measuring cup. Then put the browned onions in a different container. Refrigerate both containers. When cool, strain the congealed butter from the surface of the cooled juices, and put in yet another container.
3. You now have three terrific ingredients: browned onions, onion broth and onion butter. Use them, or store them in your fridge or freezer. Enjoy.
French Onion Soup
also adapted from Slow Cooker Cooking, by Lora Brody
3-4 cups browned onions (see above)
onion broth (see above), plus enough chicken or veggie broth or stock to make 6 cups
6 slices bread, thickly sliced and toasted
1-2 cups grated Gruyere cheese
salt and pepper to taste
1. Preheat the broiler on high. Place ovenproof bowls on a heavy-duty rimmed baking sheet.
2. Combine the onions, cooking liquid and broth in a large pot (not a crock pot, we are moving on now). Set it over medium-high heat and bring to a simmer. Season with salt and pepper.
3. Ladle the hot soup into the prepared bowls, top each one with a slice of toast, and sprinkle generously with the cheese. Set the baking sheet under the broiler and broil until the cheese melts and begins to bubble. Serve immediately.
4. Take a picture. French onion soup is very photogenic.