I am writing this post while standing on a corner in Winslow, Arizona. Not really. I am trying to take Glenn Frey's recommendation and "take it easy." In my mind, I am right here, chillin out:

Image by Rogie 09 via Flickr
As part of the 30 Large Project, I have decided to try to feed my family of four for $650 a month.  "Whoa!" I hear from my friends, "That is hard!"  I'm thinking no: climbing Mount Everest is hard.  Running for President is hard.  Grocery shopping is not hard.
Rather than adopting an excuse why I can't feed my family more cheaply (like, it's hard), I'm proceeding with the attitude that it's easy.  Why not?  Food is not rocket science (which, I hear, is actually not all that hard).
Taking the easy route, I'm starting with rice and beans – it's not like I'm going to make this cheap eating stuff work with filet mignon.  I'm also starting with Indian food: flavorful, lots of veggie options (veggies being cheaper than meat), and our kids really like it.  It's probably the #1 thing they fell in love with on their trip to London a couple summers ago.  No, not the Tower of London or scones or theater: Indian food was the take away . . .
So I got an Indian food cookbook, Vij's at Home: Relax, Honey (even the title seems to take it easy).  We have been to Vij's restaurant in Vancouver, B.C., and had the greatest time, so I was happy to get the chance to try some of their food at home.  Turns out, Indian food is super cheap – and can be easy to make as well.  Funny, I always thought making Indian food was hard – you know, like ending global warming.
Back to rice and beans.  I made their Rajmal Chawal (aka kidney beans and rice).  It was delicious.  We ate it for dinner (with a veggie alongside) and then we had enough for several lunches of leftovers.  See? Cheap and easy.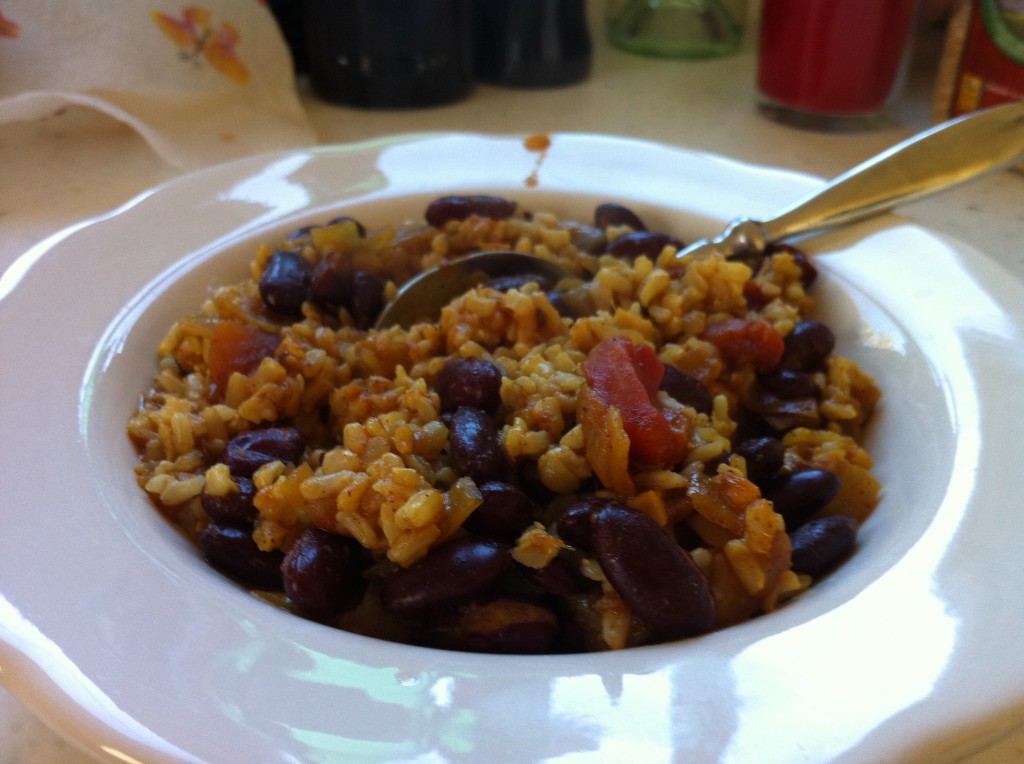 Kidney Beans and Rice aka Rajma Chawal
Adapted from Vij's at Home: Relax, Honey by Meeru Dhalwala & Vikram Vij
The first time I made this, I made it exactly as the recipe instructed, but I thought – while it was super yummy – it was too watery and too spicy.  We also really like ginger, so I added extra. I have given you my preferred measurements here. Feel free to add more cayenne (up to 1t) and more water (up to 6 cups) if you want it spicier or soupier. If you (like my sister) are not a fan of kidney beans (as a kid she meticulously removed them from her chili) you can switch out for pinto beans.
I'm not always great with getting the ingredients all ready beforehand, but it is a must with this recipe.  Chop the onion, press the garlic, grate the ginger, and measure out all the spices into a small bowl before you heat the oil.  It makes this recipe so much easier to put together. And easy is what we are after, after all.
½ cup canola oil
1 large onion, chopped small
2 Tbsp. chopped or pressed garlic
3 Tbsp. grated ginger
1 15 oz. can diced tomatoes
1½ Tbsp. chili powder
1 tsp. turmeric
1 Tbsp. ground cumin
1 Tbsp. ground coriander
1½ tsp. salt
¼ tsp. ground cayenne pepper
½ cup plain yogurt
4 cups water
3 14-oz. cans kidney beans, drained and rinsed
5-6 cups cooked brown basmati rice (next recipe)
Heat oil in a medium pot on medium-high for about 30 seconds. Add onion and sauté until slightly dark brown, about 8-10 minutes. Add garlic and sauté for 2 minutes, then stir in ginger and tomatoes. Add chili powder, turmeric, cumin, coriander, salt and cayenne and sauté this tomato sauce for 5-8 minutes, or "until the oil glistens on top," as my friends Meeru and Vij say.
Put the yogurt in a small bowl. Spoon about 3 tablespoons of the hot sauce into the yogurt.  Stir well, then pour the yogurt mixture into the pot of sauce.  Cook for about 2 minutes.
Add water, stir and bring to a boil on high heat.  Add kidney beans, stir and bring to a boil again.  Reduce the heat to medium and cook for 5 minutes, or more, if you want softer beans.  The recipe can be made ahead and reheated after you are done driving your daughter to theater rehearsal.
Serve over Brown Basmati Rice (next recipe) with a spinach salad or another veg on the side.
Brown Basmati Rice
Adapted from Vij's at Home: Relax, Honey by Meeru Dhalwala & Vikram Vij
The kids used to complain about brown rice, but this stuff they love.  The other day when I was cooking this rice, my daughter came home.  The first words out of her mouth were, "Omigod, home smells awesome!" Really, what is better than that? You can make it without the cumin seeds and/or onion, but your daughter won't have the same reaction.
This makes 6-8 cups rice, we always have leftovers, so we can have it with the leftover beans for lunch.  When making Rajma Chawal, start the rice first because it takes longer to cook and can sit covered on the stove for awhile.
2 cups brown basmati rice
2 Tbsp. butter or canola oil
1½ tsp. cumin seeds
1 large onion, finely chopped
4 cups water
1 tsp. salt
Place rice in a medium bowl, rinse under cold water and drain.  Repeat the rinsing/draining, then set rice aside.
In a large pot over medium heat, melt butter or heat oil for a minute.  Add cumin seeds and sizzle for 15 seconds.  Add onion and sauté until browned, about 10 minutes.
Add water and salt to the pot, then add rice and stir.  Increase heat to high and bring to a boil.  Immediately reduce the heat to a simmer, cover and cook for 45 minutes.  When the time is up, turn off the heat and keep the lid on.  The rice will steam and stay while you finish the beans and/or pick your kid up from basketball practice.
Then when you are done cooking and schlepping kids and eating – go take it easy.