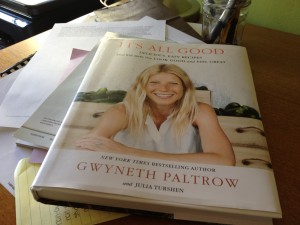 I guess I have my own haterish issues with this, but here I am writing about Gwyneth Paltrow's new cookbook, It's all Good: Delicious, Easy Recipes that will Make you Look Good and Feel Great. And, while I'm not crazy about the over-used phrase in the title, I've made several recipes from the book, and I'm here to say: I like it. I really like it.
Full disclosure here: I read Gwyneth Paltrow's stuff. I have her first cookbook (note to haters: it's pretty good); I have her travel app (it was kinda helpful on our trips to London and New York); and I subscribe to her blog Goop (although I often don't read it – a $500 blouse? Yeah, whatever). And, of course, we named our beloved silkie, Gwyneth Poultry, after her. Take a look. The resemblance is obvious, right?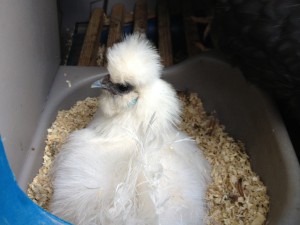 The New York Times recently published this review on their blog about It's all Good, which was just over-dramatically critical. For example, the article said the book, "makes it seem that healthy eating is strictly for the wealthy." Like you need to spend $300 a day to cook from this book. Oh, please. I have made several recipes from It's all Good that were super cheap. I say it's a testament to the cheapness (and simplicity) of the recipes that I was able to make so many of them with ingredients I already buy. In fact, here's a helpful list of the cheap and easy things I've made so far: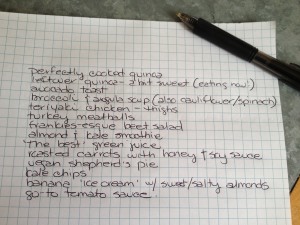 The review went on to say that the cookbook was, "quack science . . . attempting to export Paltrow's wacky elimination diet . . . to a populace that's improperly nourished and financially struggling." Alright. Get over yourself, New York Times. First, in my work as a legal-aid attorney I have had the opportunity to meet thousands of improperly nourished (maybe) and financially struggling (definitely) people – and I feel pretty certain that none of them are going to buy this book. None. They have many more important things to spend their money on, like food.
Moreover, who says an elimination diet is wacky? Monsanto? Part of the joy of being an omnivore is that we can choose what we eat. There is nothing wacky about deciding to limit or eliminate processed foods, dairy, white flours and red meat from one's diet.
And finally – it's a cookbook, people. Just because G.P. publishes a cookbook based on her current ideas about health and nutrition doesn't mean she's telling everyone to eat that way. And just because I read her book (or her blog for that matter) doesn't mean I have abandoned my free will, or critical perspective, and become her zombie-like follower.
Hopefully I'm not too optimistic, but I think that people (even financially struggling ones) are capable of taking information and deciding what works for them and what doesn't, and not blindly following a cookbook like it's gospel.
My rant is now over. Now let's talk about food. Hello there, food . . . My favorite recipe so far has to be the turkey meatballs. I made a few adaptations to G.P.'s recipe (see above reference to free-will) that make them work for me given the ingredients I usually have on hand. And I have doubled the recipe, so I can keep them in the freezer for a quick lunch or to throw in some tomato sauce for dinner. Haters, begone!
Miraculous Turkey Meatballs
Adapted from It's All Good by Gwyneth Paltrow and Julia Turshen
I'm certain the original recipe is perfect as is, but I happen not to have some of the herbaceous ingredients around generally, so I improvised a bit. What I did not alter at all was the crazy-brilliant idea of replacing the milk-soaked breadcrumbs and eggs typically used in meatball recipes, with a puree of onions and herbs.
Plenty of moisture to get the turkey to stick together + much more flavor than milk and egg soaked bread = miraculous meatballs.
2 small onions, roughly chopped
4 cloves garlic, roughly chopped
1T dried Italian herb blend (or use whatever dried herbs you like)
2 large handfuls of arugula (about 3 cups)
1/2 cup flat-leaf parsley
2 lbs. ground turkey (I used 1lb. white meat and 1 lb. dark meat)
2t kosher salt
1t ground black pepper
Preheat the oven to 325 degrees.
Put the onions, garlic, dried herbs, arugula and parsley in the bowl of the food processor and pulse until very finely chopped and mixed together into a kind of mash (but not a soaking wet mash – you don't want all the juiciness to run out of the meatballs when you bake them). Put this mixture into a large bowl and add the turkey, salt and pepper. Use a spatula or your hands to thoroughly mix everything together. Then roll the mixture into 2.5″ meatballs (the size of a handball) and space them evenly on a baking sheet (I used two sheets). Bake for 25-30 minutes or until cooked through. That's it. They are ready to go.
If you wanted you could under-cook them a tad and have them finish cooking in a tomato sauce or something. I've been eating them plain, on top of a salad, like this: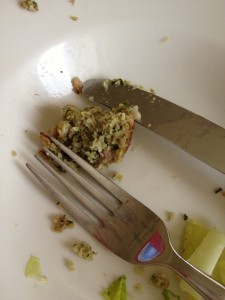 Note to self: take the photo before you eat.