A few years ago my husband gave me a sewing machine for Christmas. A complete surprise to me, it was both a fabulous and a threatening gift.
"Now I can make anything!" was my first thought, quickly followed by, "but I don't know how to make anything!"
Sure, I made a duffle bag in home economics class in 8th grade. Clearly, that was many years ago, since I suspect home economics hasn't been offered in grade school for about 30 years.
Alas, the machine sat unused as I focused all my energy on a newborn. About a year later, with a one-year-old daughter, I finally took a community education sewing class offered at the nearby university. As I learned the ins and outs of the sewing machine, I was excited by its abilities and how easy it was to sew basic items. In the class I made a pillowcase for a throw pillow from an old men's shirt. Armed with some false confidence, I proceeded to plan to make more things. Just what those things were to be I didn't yet know. The pillowcase sat unused. Another year or two passed and, as of yesterday, I'd done nothing more than hem a few pairs of pants with the machine. I felt a bit defeated; time for a confidence boost, and another class.
This time I decided I was going to make something I would use from something of little use. The pillowcase dress making class, which cost $35, seemed a perfect candidate. My daughter Clara looks cute in just about anything, so how could I go wrong? Inadvertently, I upped the difficulty level with my choice of "fabric" — I brought one of my mom's old flowing, gathered Laura Ashley skirts to repurpose into a simple girl's dress. Other expenses included bias tape and some thread – about $6.
I gained a true appreciation for how much preparation goes into a sewing project, as well as the number of techniques there are to master. Finishing seams, using the zigzag stitch, using fractions while calculating seam allowances, planning the process of turning a skirt into a dress – let alone measuring, cutting, pinning and, heck, even ironing – was tough. Oh, and sewing a straight, clean line wasn't easy either. Given my initial fear of the machine, I might have found the need to learn all of these new skills daunting, but for some reason it felt (and feels) exhilarating. Fun. Playful. Expressive.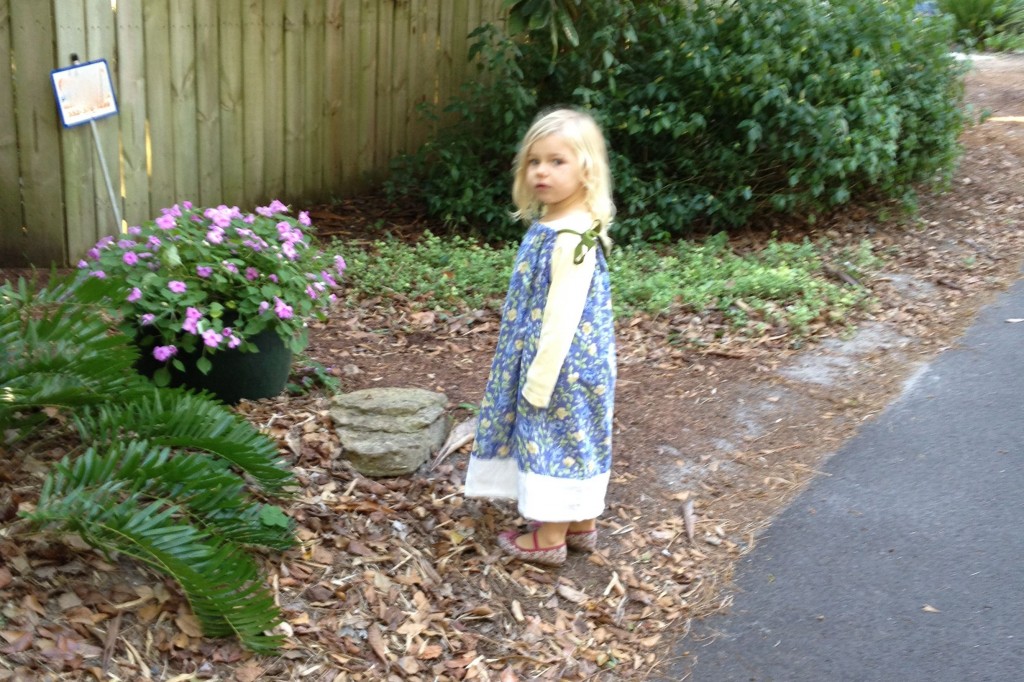 I'm pretty gleeful about the simple dress I made for my daughter. I'm going to make more. And I'm going to learn in the process. I'm going to become more confident. Talented. I'm excited. I don't know why I have been afraid of that machine for so long. Sew. Make. Do. — the name of the business where I made my first dress — is a smart moniker that really sums up the empowering feeling one can get from the act of creating.
I find it inspiring to make clothes and toys for Clara. She is going to be my muse. Eventually maybe I'll become brave enough to make clothes for myself.