I am a traveler. I've even dabbled in travel writing. I've backpacked, couch-surfed, lived overseas (on two different continents), stayed in some rather expensive accommodations and slept on the dirt at the edge of a fading fire. Without question, my most meaningful travel experiences have happened when I've travelled as many locals do – cheaply.
I think when I'm traveling with limited resources I'm freed to be open to all experiences. Whether that experience is of stormy seas on a four-hour ferry ride or a simple plate of food straight from a market stall. Money can provide better bathrooms, but it can also homogenize a place to the point where relying on it can get in the way of an authentic travel experience.
So given this history, imagine my shock when my DH (Dear Husband) made a proposal that made me challenge my self-image . . .
DH and I had planned on visiting family in South Texas for New Year's Eve. When we went to book airline tickets, we discovered prices were more than double what they had been a few years ago when we last made the same trip. This time around we also had to book three tickets rather than two, since Clara no longer flies for free.
We used all our online booking tricks and sites. Nothing. We waited. Prices didn't budge. We could find nothing in the reasonable range. And that is when it happened. DH suggested we drive to Texas. Trade wings for wheels. See more. Pay less. Take a three-year-old girl more than 1,000 miles within 16 hours to reach Austin, and another four or so to a South Texas ranch?
Now, I hate to admit this, that I, the great adventurer, balked at the idea. My first thoughts focused on the possible negatives: three-year-old, more time to be spent in car then on the ground. Three-year-old. We could be saddle sore before we even reached our destination. It seemed motherhood had nearly knocked the spirit of exploration out of me.
To complete such a Gainesville – South Texas round trip in eight days sounded like madness to me. But to pay all that money for airfare and a short three days at our final destination didn't seem so wise either.
Road trip: Smart option or crazy undertaking?
Turns out – smart. The price of our eight days on the road was cheaper than the cost of three days, three plane tickets and a rental car would have been. And, as I realized while the miles rolled away beneath me, more days of traveling fun were actually priceless. We really experienced the trip. Okay, not at the wagon train level, but still we were in contact with the ground we were passing through. Clara learned about geography, at least the existence of a few states. She had a blast, and the family had uninterrupted bonding time with no fights or tantrums.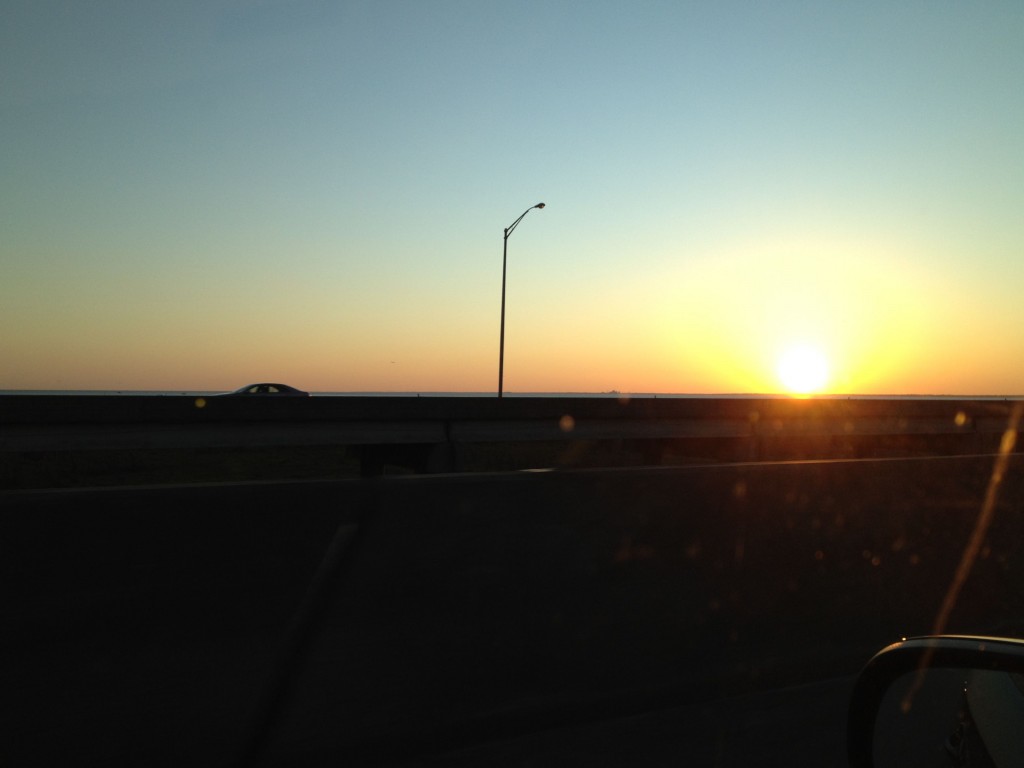 But what really sold me, reignited my zest for the open road, and sideswiped my fears was New Orleans. The Big Easy is right smack in the middle of the 16-hour stretch to Austin, making it a perfect spot for the first day's layover.
Beignets!!
Okay, so as it turned out, no beignets. The line was too long for Café du Monde's famous fried dough. Instead, we indulged in both raw and fried oysters, fried shrimp and some good beer at the Bourbon House; and late breakfast massive omelets at Camellia Grill's bar counter in the French Quarter the next morning. All the while we were actually saving money verses flying.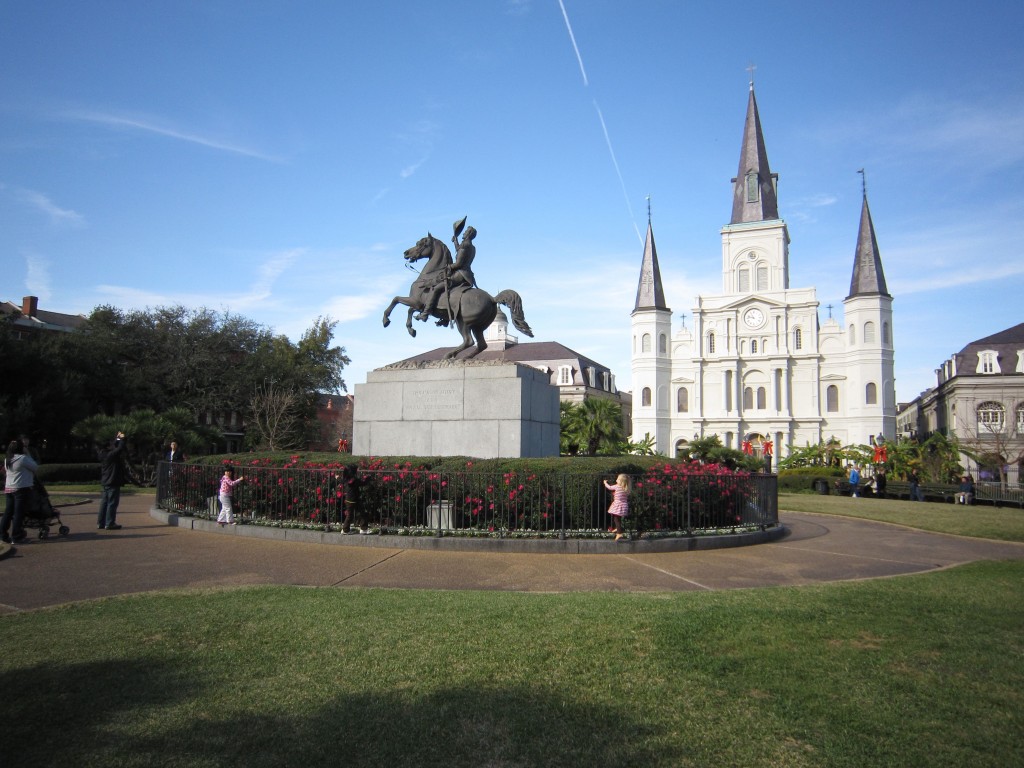 When not eating we spent our time wandering the streets around Jackson Square. Always festive, the French Quarter's residents had draped over-the-top Christmas decorations from their balconies and dangled them under eves.
The rest of the trip, our day and night in Austin, and even the time spent playing games and singing in the car, all affirmed we'd made the right call. Did I mention that packing a car (station wagon in this case) is a lot easier than packing for air travel? When in doubt, throw it in!
As with any successful road trip, ours was fun because we enjoyed the travel. Being at the ranch for our New Year's celebration was the exclamation point to a special journey, rather than our only experience. Most travel these days is focused on getting there. Being there. On this 2,400-mile drive, we were there from the minute we left our driveway.