No sweeping lawn, ancient trees, stone towers, courtyard, or flapping flags decorate my personal Downton Abbey. Rather a wrap-around porch, with a semi-detached kitchen, and a peaked roof define The Lodge, a Cracker-style wooden house that has played a main character in my life.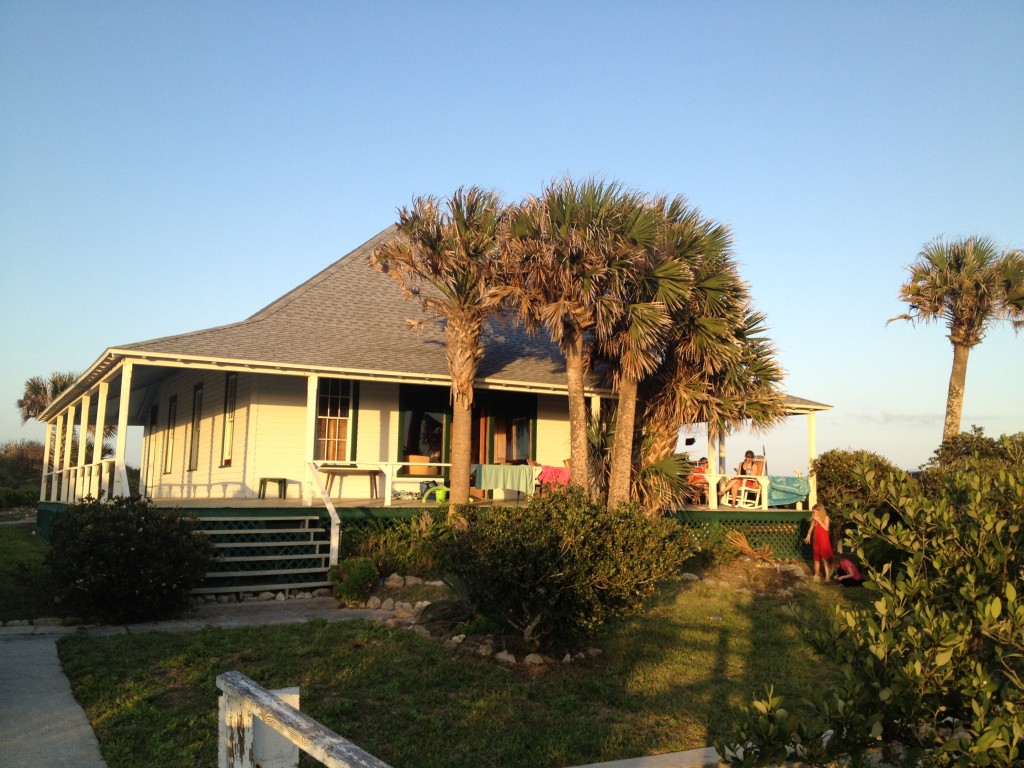 Pennsylvania millionaire Thomas Mellon, brother of the former United States Treasury secretary Andrew Mellon, built The Lodge around 1895 as a fishing lodge. The old house is perched on a constantly shifting spit of land jutting into the Atlantic, 15 miles south of St. Augustine, a town celebrating its 500th birthday. Author Marjorie Kinnan Rawlings played cards here. Other celebrities visited the family over the years. Now the house's future is as tenuous as that grand fictitious English estate.
The Lodge has stayed in the family all these nearly 120 years. In the 1990s and early 2000s, the current owner, Thomas Mellon Schmidt, the great grandson of Thomas Mellon, rented it to graduate students from the University of Florida. Anthropologist friends of mine were lucky enough to rent the house for a year at $600/month.
Lucky enough for me, anyway: I don't know how much quiet time for dissertation writing the couple experienced. They were regularly inundated with irresponsible, sometimes inebriated friends stopping in for three- or four-day beach vacation weekends.
We lit fireworks in the campfire, hosted bands on the porch, camped on the nearby beach. We also may have had a food fight in the kitchen (Sorry, Deb). We had quiet times, too. I cooked my first roasted oysters on that same campfire. Talked late into the night with friends on the porch. Saw phosphorescence from the dock's boathouse as I ran my hand in the river. For all of us who experienced those times, The Lodge never sleeps.
From the wrap-around porch it was possible to see the sunrise over the Atlantic, and the sunset over the Summer Haven River, a short branch of the Intracoastal Waterway, that rambled 50-feet in front of the house to meet the ocean just 100 feet away.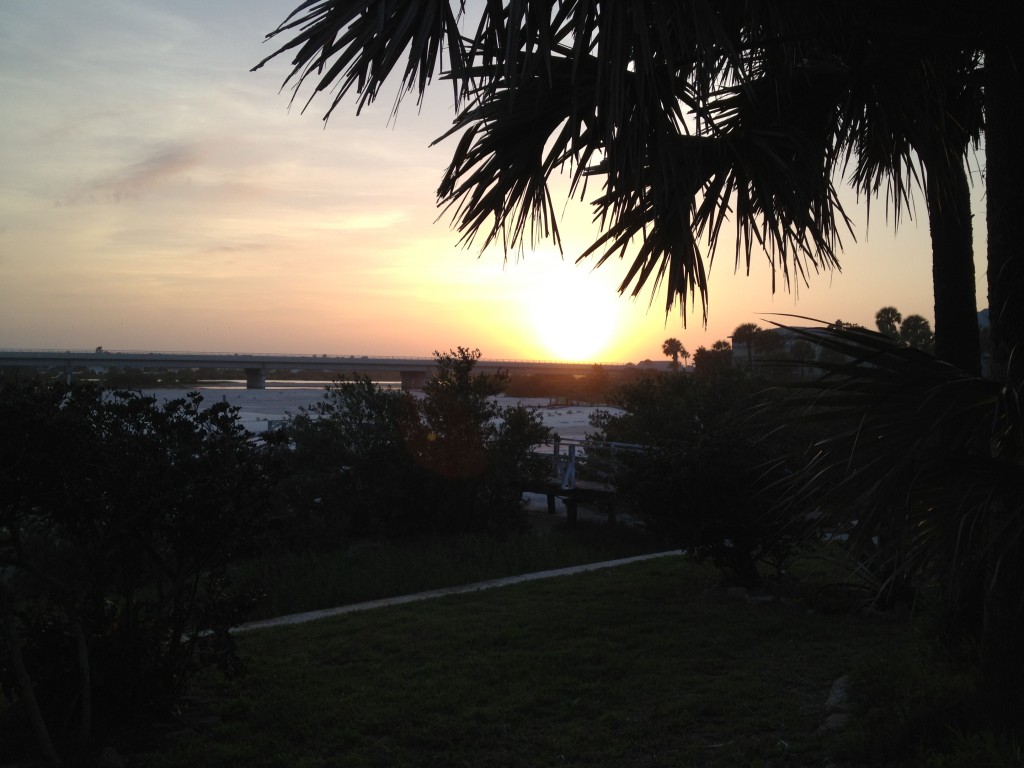 Around 2002, Schmidt put a lot of work into the house, fixing infrastructure, wiring, plumbing and the roof, with an eye to reworking it as an upscale vacation rental. In my opinion, that's when things started to go downhill for the classic old house, which has been a labor of love, and exasperation, for Schmidt.
When I called Thomas Mellon Schmidt the conversation was somewhat awkward for me. I felt strongly compelled to call him and alert him to the desperate condition of the 100-year-old home after I stayed there with some friends. Who am I to tell this man he needs to take care of The Lodge, his historic home in Florida, because I love it?
Mr. Schmidt, 73, clearly loves it. He has early childhood memories of time spent in a place that has been in his family for four generations. He returns every year. He said he would like to retire there. He has been keeping it a part of Florida's living history for decades, at a loss, he said, of $10 thousand a year. Property taxes on beachfront land is not cheap. I can only imagine the price of insurance.
"The only time I ever earned money on the house was when I rented it to graduate students," Schmidt said by phone from his Pittsburgh home. "Of course, I never had much upkeep costs then because I didn't repair much."
When I stayed at The Lodge recently, I expected it to be a shined up version of the old home. Unfortunately I found it in worse shape today than it was 20 years ago. Vacationers who pay a healthy sum to stay here deserve a safe environment, but the house is too neglected by its management company, Vacation Rentals Pros Property Management LLC, to provide that. I called Schmidt to let him know the house is in dire straits.
I feel it is irresponsible to rent out The Lodge in its condition. I feel someone has to act and act fast to repair it or soon the house might be irretrievable, to history, to family gatherings … to me.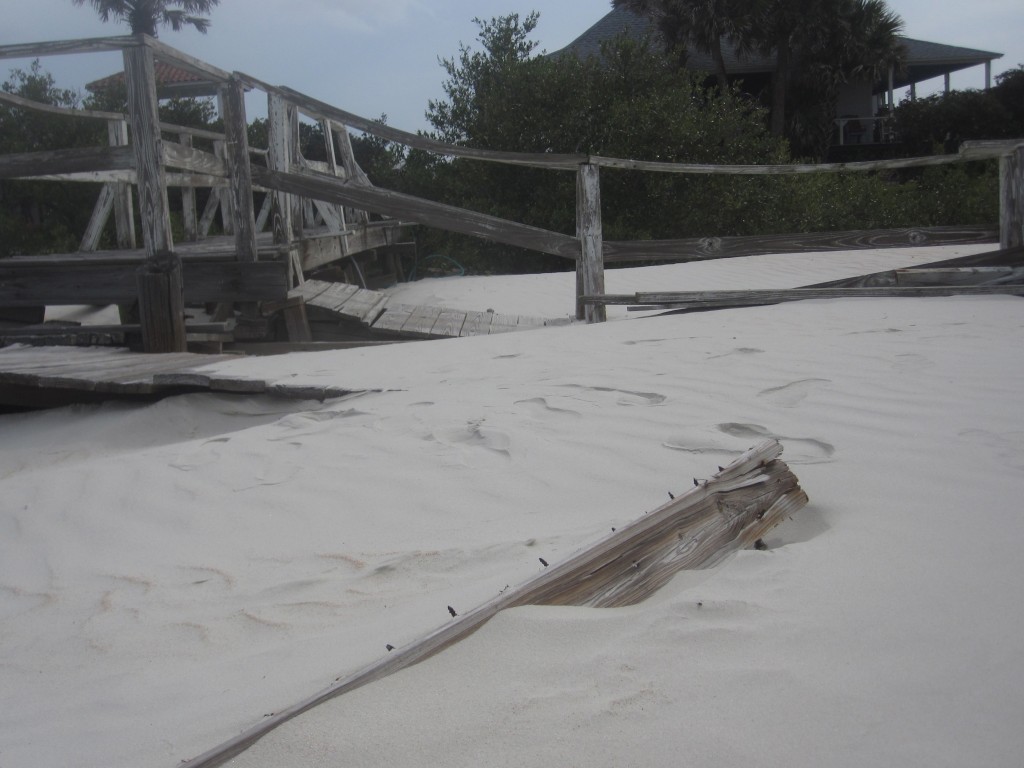 The boathouse and dock that now stretch over sand because the Summer Haven River moved away have been reduced to a short boardwalk ending in a pile of boards studded with upturned rusty nails.
Inside, the five-bedroom house is, thankfully, nearly the same as it was, with unpainted boxcar paneling and a working stone fireplace, family art and furnishings, a caribou head that Schmidt told me his great uncle hunted in British Columbia.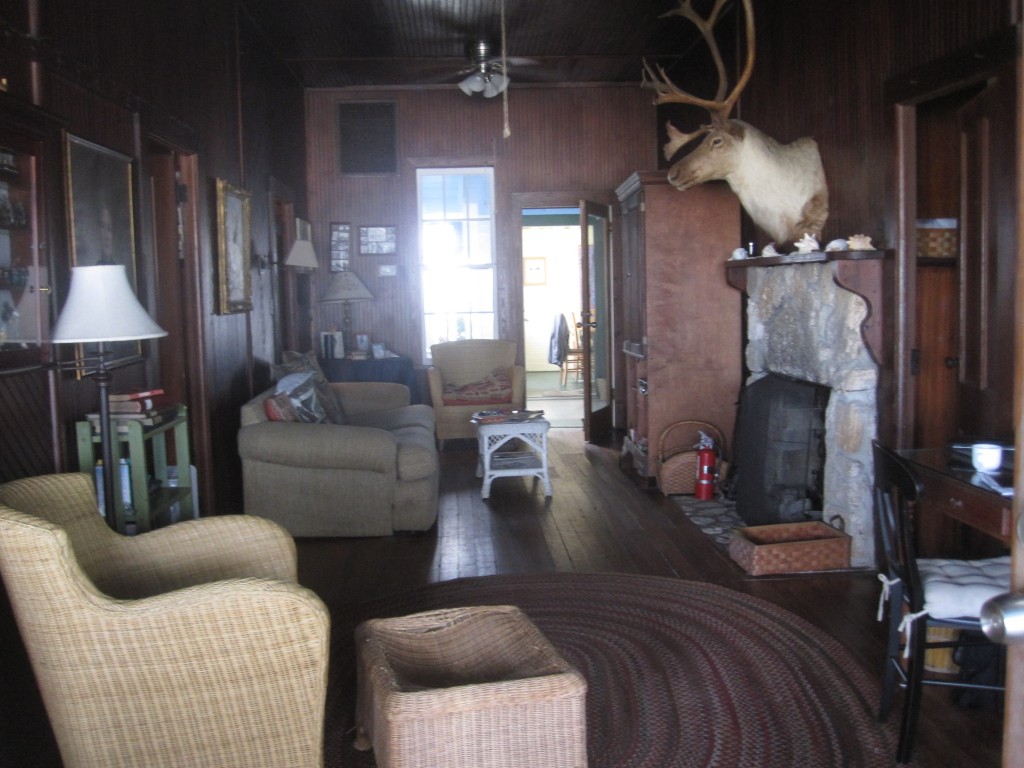 The outhouses of Schmidt's childhood have been replaced with indoor plumbing, complete with modern drainage problems. The outdoor "shower" is just a bare pipe that juts from the wall outside. Windows are nailed shut and crumbling. Porch boards are loose and popping up. Dust and cobwebs hang from the ceiling fans in the kitchen and above the beds.
But for me the final straw was the sight, sign and smell of vermin. A lot of vermin. Rats have taken over the attic, and a urine stain is visible on the ceiling of one badly smelling bedroom. Rat and mouse feces dotted the pantry shelves, amid the pots and pans. All of these things combine to basically make this place a health hazard.
From what he said, Schmidt seemed to have faith in his property management company. I think he is misled in this. I mean, how hard is it to dust? How expensive would it be to hire three guys and a pick up to haul away that broken dock? How tough is it to get pest control out there on permanent contract because the rats are going to keep coming back to an empty house on the edge of wilderness.
I hope the manager and the owner do the responsible thing: remove the collapsed deck to nowhere, evict the mice and rats, sanitize the home, fix the floorboards, and complete other maintenance, like replace ceiling fans and repair the windows. If they can't do this, it's unconscionable to rent out this property since it could sicken or hurt people.
The Lodge was certainly in better shape when it was lived in, loved and cared for by students. Now, it has lost its soul and has gained little structurally as an expensive rental. The historic property needs more than a healthy influx of cash. It needs a champion, who will give it concerned attention to keep the sun from setting on this truly special piece of old Florida.