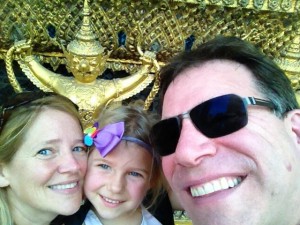 After nearly 24 hours of sitting upright in 18-inches between the arm rests of  a coach seat while flying over land and sea, John, Clara and I arrived exhausted but without incident in Bangkok at 11:55 p.m., New Year's Eve.
We cabbed to our Riverside hotel, then wandered around the streets, which were lively because there had been a massive fireworks display over the Chao Phraya River at midnight. Clara was ready for bed at 3 a.m. so we abandoned the hope of late-night noodles and retreated to our hotel for some much needed rest.
When I woke and peeked out of the curtained window, I was rewarded with a view of a small temple.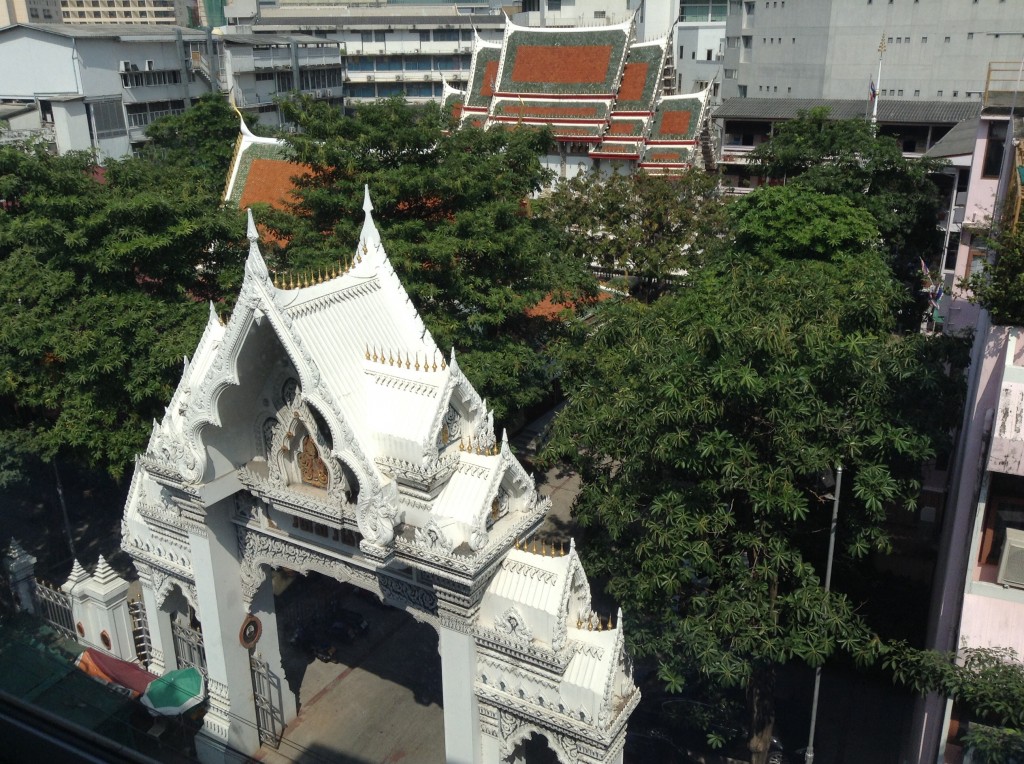 Looking at it, I was filled with a strange feeling – although I knew I was in the Bossotel Hotel in the Riverside area of Bangkok, Thailand, I did not really know where I was in relation to the city around me. I couldn`t point to our location on a map. If I stepped out of the door, I wouldn`t know where to go or how to get back. 
Clearly it was time to investigate our surroundings. After a massive breakfast that was included in our hotel booking, we grabbed our Bangkok map, asked the front desk to show us where we were, and headed out without a clue as to where we were going. To the river to be sure, but then what?
As the best laid plans can fail, so can the non-existent ones spectacularly succeed. After a few minutes of trial and error, we found the floating public boat taxi pier, which rocked spectacularly at the docking of each longtail boat. We boarded one with enough space for us to sqeeze on, paid our 15 bhat, and traveled up river to one of Thailand`s most well-known templee complexes – Wat Phra Kaew and the Grand Palace, a former royal residence. Unknown to us, entrance to the temple was free because New Year`s Day was a national holiday. Sweet savings!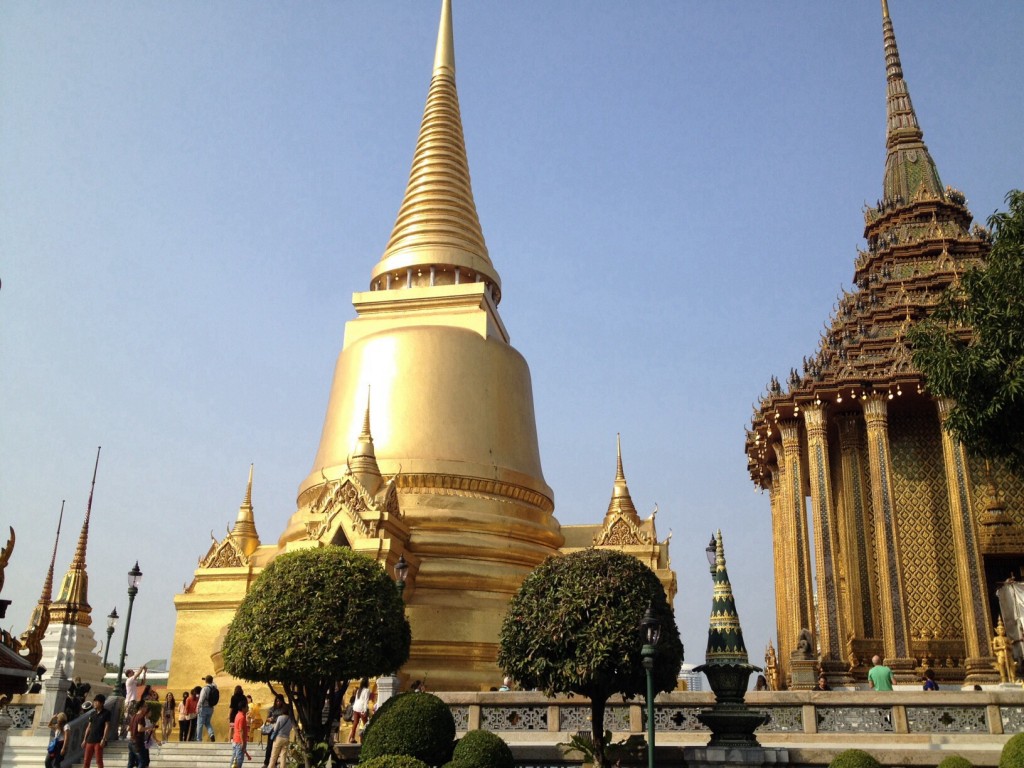 For dinner, we were able to eat at the corner noodle stand we abandoned the previous night. Clara was so tuckered out she put her head on the table and fell asleep without eating anything. We ate hastily. The soup was delicious.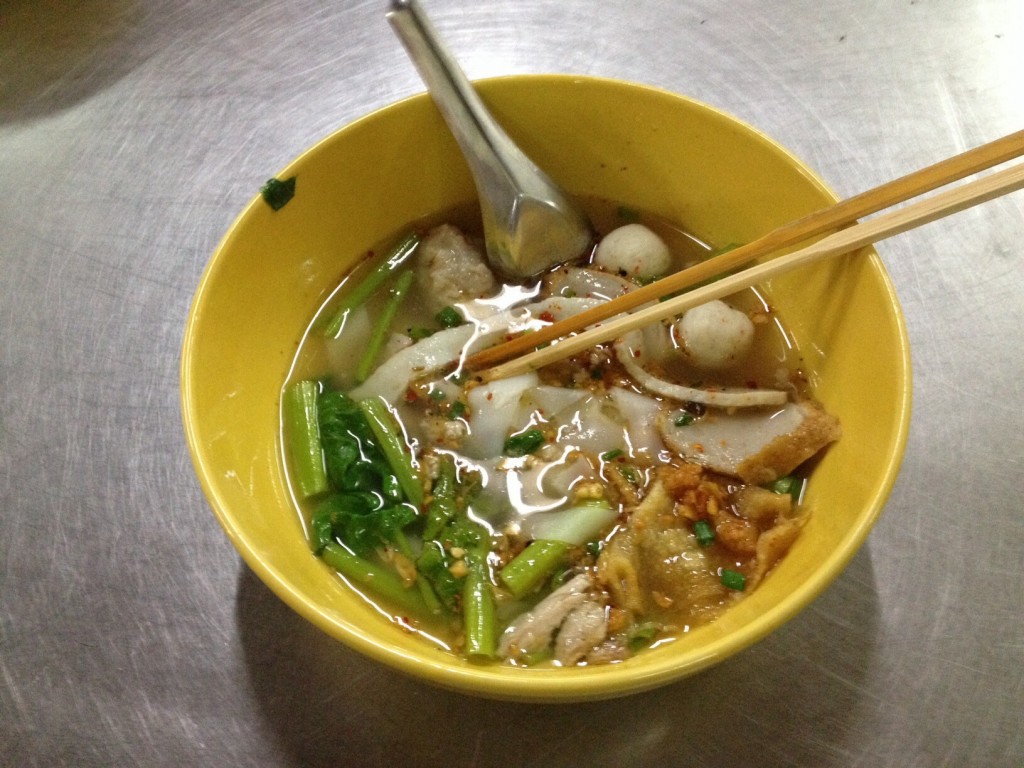 Our river travels kept us well out of the city center, where last week there were violent protests by a group seeking to overturn the Thai`s democratic political system. More on that later, but for now suffice to say we haven`t had to worry about becoming involved in any trouble.
Day two has dawned and we will need to stay close to the hotel. Poor Clara caught a stomach bug somehow, despite her limited diet of chocolate milk and ice cream. With her flair for drama, she tossed her cookies for the first time ever this morning at the breakfast table. She was so brave and is feeling much better already. It was bound to happen sometime. Better here in a comfortable hotel, I suppose. Tomorrow afternoon it is back to the airport for us and up to Chiang Mai, where we will stay for more than a week, before heading to Cambodia.